Brain Tumour Research & Support across Yorkshire
The BTRS vision is clear and simple – they want to cure a devastating disease that affects so many people.  Whilst we are waiting for the cure, they will provide the best patient and family support network we can.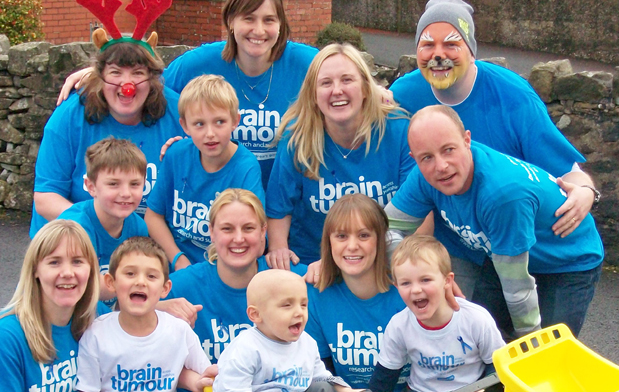 Around 9,000 new cases of primary brain tumours are diagnosed in the UK each year. Across Yorkshire and the Humber we estimate there are 1,000 patients diagnosed each year, around 50 of these will be children.
BTRS Objectives
To raise funds to support specific and dedicated research projects into the treatment and cure of child and adult brain tumours, and to ensure that all research is written up for publication and communicated with other charities and research organisations.
To provide grants or financial assistance to brain tumour patients and their carers.
To provide equipment and apparatus to hospital wards, patients or research centres.
RIDe25 and BTRS
BTRS is focused on the Yorkshire Mafia Paris to Geneva challenge ride in September 2016 – and is offering a limited number of fully funded charity places if you are willing to commit to a fund raising target of £2300.
Find out more about the ride in September 2016
BTRS will also consider fully funded rider places for cyclists who wish to complete other Ride25 legs as a challenge event and raise money for BTRS.  Please fill out the form on the left to get more info about this and let us know which Ride25 leg you want to ride.
I want to sign up for a BTRS fully funded place – what do i do?
All you have to do is sign up to the ride, select BTRS as your chosen charity and tick the box that you want a fully funded place, then pay the non-refundable £250 deposit/registration fee – and we will put you in touch with BTRS to work out fund raising ideas and plans.
We will then be in touch to talk bikes, shirt, helmets, shorts and training…… what are you waiting for? Get signed up!