Cavendish Cancer Care is a Sheffield charity dedicated to improving the quality of life for people living with cancer in South Yorkshire, North Derbyshire and Nottinghamshire. We believe no one should face cancer alone, so we provide emotional and physical support through counselling and complementary therapies. Our services are provided free of charge and we rely on the donations from supporters and help from volunteers to continue our work.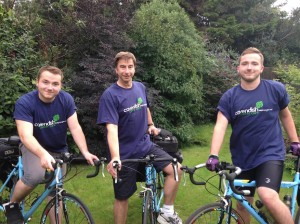 Since 1991, we've been helping people across South Yorkshire, North Derbyshire and Nottinghamshire. People like Stephen and his sons Joe and Sam who recently cycled to Monte Carlo to raise funds for us.
We listen to the things people can't always say to their loved ones

We provide a place where people can share feelings and thoughts without guilt or the fear of upsetting anyone
We help people feel more in control, more confident and more able to cope

 We work alongside the NHS and offer professional counselling and therapy

Our team of skilled counsellors and complementary therapists specialise in supporting those with cancer
We also offer physical, emotional and practical advice to help people keep on top of things

Our services are provided free of charge

We rely on the donations from supporters and the generosity of friends and former clients
Our team is supported by many active volunteers

We're here to listen, offer counselling, therapies and physical support. And we're just a phone call away.
RIDE25 and Cavendish Cancer Care
Cavendish Cancer Care would love to have you in the saddle for them on the Paris to Geneva challenge ride in Sept 2016 – and is offering a limited number of fully funded charity places if you are willing to commit to a fund raising target of £2300. As a local independent charity, we are reliant on the generosity of local people and your fundraising will make a massive difference to us the local people we support.
I want to sign up to a Cavendish Cancer Care fully funded place – what do I do?
All you have to do is sign up to the Paris to Geneva ride in September 2016, select 'Cavendish Cancer Care' as your chosen charity and tick the box that you want a fully funded place, pay the £250 non-refundable deposit/registration fee – and Ride25 will put you in touch with Cavendish Cancer Care to work out fund raising ideas and plans.  Ride25 will then be in touch to talk bikes, shirt, helmets, shorts and training…… what are you waiting for? Get signed up!