Re~Cycle – New lives from old bikes
Across the UK, millions of bikes are thrown away or left to rust in sheds, whilst millions of people in Africa have to walk for hours each day, often carrying heavy loads.
Re~Cycle rescues unwanted bicycles across the UK and sends them to projects run by partner organisations in Africa. There, bikes offer a simple, affordable transport option, generate income opportunities, and save time and energy. With a little maintenance a bike can benefit a family for many years.
Who Re~Cycle help
Re~Cycle help people like Harriet…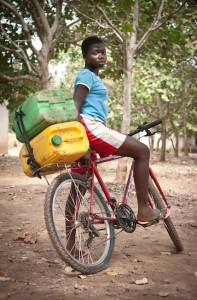 Harriet is 14 and lives in Asiri, Ghana. Before she received her Re~Cycle bike, Harriet and her family didn't have access to affordable transport and would often walk miles carrying heavy loads.
A great number of children have to walk for hours to get to and from school until they receive bikes from Re~Cycle. However, Harriet's school isn't too far from her home so the main difference this bike has made to her family's lives is that she's using her bike is to help her with the chores – including collecting the water.
Harriet is pictured here en-route to the stand pipe to collect water. Each container weighs 18kg when full.
Ride25 and Re~Cycle
You can join the Re~Cycle team taking part in Ride25's challenge ride from Geneva to Milan. There are two options for you to fund the ride.  For a fully funded place on the team you need to commit to a fundraising target of £1,700 for Re~Cycle. Alternatively, you can choose to self-fund the ride and then fundraise as much as you can for Re~Cycle or make a personal donation.
You can also choose to support Re~Cycle on any other open cycling challenge. Please fill out the form on the left to get more info.
For every single person who completes one of Ride25's cycling tours, Ride25 will donate £20 to Re~Cycle to get a bike to Africa. Research has shown that each bike donated by Re~Cycle is used by an average of six people in Africa, usually family members. So every bike Re~Cycle provides can transform six people's lives.
For more information please visit www.re-cycle.org or like the Re~Cycle facebook page at www.facebook.com/bicyclecharity