Simon on the Streets is an independent charity that works with those who have complex needs and cannot or will not access other services.  Within that group the focus is on people who are homeless and rootless, especially those with issues related to rough sleeping.
The aim of the charity is to bring people leading solitary harmful lives, with little or no vision for a better future in from the margins of society. The charity will achieve this by supporting people to find aspirations and giving unlimited opportunities to achieve sustainable positive change. The support is offered on an entirely outreach basis and is not time limited.  The approach taken with service users is to recognise emotional support as a high value offering and to understand that building a quality relationship with service users will underpin any support given.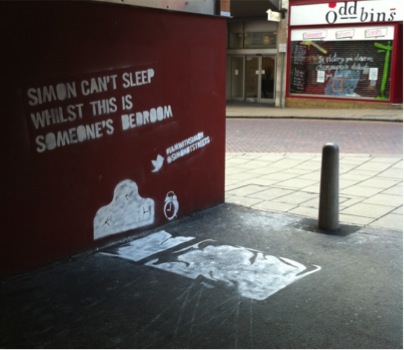 Simon on the STREETs OUTREACH WORK
Engage with individuals who we do not know
Offer a supportive and caring relationship
Stay in touch with regular clients
Sign-post into mainstream services
Assess who needs our intensive support
Simon on the Streets WEEKLY SOUP-RUN
The Soup-Runs go out on a Tuesday evening in Leeds. The purpose of the Soup-Run is to take out food and drink to those who will be sleeping rough that night. Although these aspects of the work are important the most important part of the project is to have contact with our service users, to show them we are there for them and offer support with making changes in their lives when they are ready to make them. Also by being out in the evening we can offer the practical support of referring people to emergency accommodation when the need arises.
RIDe25 and SImon on the Streets
Simon on the Streets is focused on the Yorkshire Mafia Leeds to Paris challenge ride in May 2015 – and is offering a limited number of fully funded charity places if you are willing to commit to a fund raising target of £2300.    Simon on the Streets will also consider fully funded rider places for cyclists who wish to complete other Ride25 legs as a challenge event and raise money for Simon on the Streets.  Please fill out the form on the left to get more info about this and let us know which Ride25 leg you want to ride.
I want to sign up to a fully funded place with#Ridewithsimon – what do I do?
Our main event this year is the Paris to Geneva tour with several local charities.  There are several options for funding – please read the information page for more details and to sign up.
We will then be in touch to talk bikes, shirt, helmets, shorts and training…… what are you waiting for? Get signed up!