Cycling Holidays France
Ride25 cycling holidays in France are all about experiencing the best that France has to offer, which means plenty of dedicated cycle paths, smooth road surfaces, quiet back roads, cycle-friendly cafes and courteous drivers.   Added to that, the cafes and local restaurants serve some of the best food and wine on the planet… so what are you waiting for?!
Ride25 cycling holidays in France
Our French cycling holidays include our London to Paris ride and Paris to Geneva rides.  We don't necessarily take you on the fastest route or perhaps the most traditional cycling route, but both are designed to see you pedal through some of the best sights and scenery the country has to offer – as well as experiencing the delights of the local gastronomy.  On our London to Paris ride, we enter into France via the Brighton/Dieppe ferry and our first miles on French soil lead us along a dedicated cycling path – the 'Avenue Verte' – into the town of Forges-les-Eaux.  The following day, we pedal through some stunning countryside on our way to Paris, for a memorable ride along the Seine and up to the Eiffel Tower.   On our Paris to Geneva ride, we cycle past the famous vineyards of the Champagne and Burgundy regions with lunch stops in pretty towns such as Chablis.  We also tackle the Col de la Faucille in the French Jura Mountains – made famous by the Tour de France.

Accommodation on our French cycling holidays
We handpick all of our hotels in France to ensure that they provide good quality, 3 or 4 star accommodation in a clean and comfortable environment.  (You will never find yourself staying in a youth hostel or tent as we believe a good night's sleep is an essential part of enjoying your cycling adventure!)
Some examples of the hotels that we use in France are as follows:
Forges-les-Eaux: Domaine de Forges Continental Hotel  (London to Paris tour)
Paris hotel:  Novotel Paris Tour Eiffel  (London to Paris & Paris to Geneva tour)
Semur-en-Auxois hotel: Hotel de la Cote D'Or (Paris to Geneva tour)
Lunch and Evening meal stops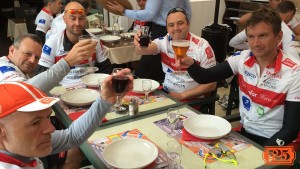 One of the best ways to experience a country's culture is to eat the local fayre – which is why we place such great importance on our coffee stops and lunch and evening meals in local restaurants to ensure that you get the pleasure of sampling the wonderful fresh, French cuisine.  We have great relationships with the local restaurants that we use and we always make sure that the chefs have a good understanding of what is required to refuel a group of hungry cyclists!   Some examples of the lunch and evening meal restaurants that we use are:
Le Volant Basque – Paris (London to Paris tour)
Cafe du Centre – Nuits de St Georges (Paris to Geneva tour)

Watch our French Cycling Holiday videos here!
Find out more about what is on store on our Paris to Geneva cycling holidays below – or our London to Paris tour here.