Cycling Holidays Italy
Ride25 Italian cycling holidays offer some of the best cycling terrain, landscapes and scenery in the world.  Coupled with fabulous espressos and gelato en route, wonderful 'al fresco' meals plus a favourable climate, cycling holidays in Italy are very close to cycling heaven!
Ride25 Cycling Holidays In Italy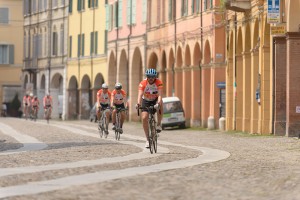 We have a great selection of cycling holidays which travel through the wonders of Italy.  Choose from our Geneva to Milan ride, our Milan to Rome ride, our Rome to Bari ride (available in 2017) or combine rides to go from Geneva to Rome. All of our routes are designed to see you pedal through some of the best landscapes and scenery that Italy has to offer – whether it be the glistening waters of Lake Maggiore and Lake Como (on our Geneva to Milan route) or the stunning rolling Tuscan hills and fairytale towns such as the hill top town of Orvieto (on our Milan to Rome route).   On our Geneva to Milan ride, our first miles in Italy lead us around Lake Maggiore, where we have a wonderful al fresco lunch (weather permitting) and where many of our riders opt to have a quick cool down in the refreshing waters of the Lake.  We also cycle to the iconic 'Madonna Del Ghisallo' – the patron saint of cycling. On our Milan to Rome ride, we pedal over rolling tuscan countryside, interspersed with magnificently historical towns and villages.   For the more adventurous, why not combine two of our Italian cycling tours and go from Geneva to Rome?

Accommodation on our Italian cycling holidays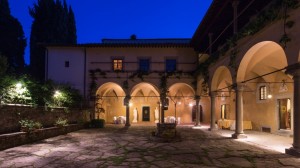 We handpick all of our hotels in Italy to ensure that they provide good quality, 3 or 4 star accommodation in a clean and comfortable environment.
(You will never find yourself staying in a youth hostel or tent as we believe a good night's sleep is an essential part of enjoying your cycling adventure!)
Some examples of the hotels that we use in Italy are as follows:
Figline Valdarno hotel: Villa Casagrande (Milan to Rome tour)
Milan hotel: The Square  (Geneva to Milan tour)
Orvieto hotel: Grand Hotel Italia (Milan to Rome tour)
Lunch and Evening meal stops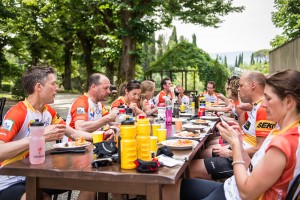 Italy has some of the best food in the world… which is great news for our cyclists who are lucky enough to experience lunch and dinner in some of our handpicked local gems en route.  We have found some great little restaurants, sometimes off the beaten track, where you can experience some of the best home-made pasta, pizza and other Italian delights.  Oh, and the espressos are pretty great too! As the weather is often very good on our Italian cycling holidays, we eat 'al fresco' as much as possible – adding to the overall enjoyment of the Italian eating experience.    Some examples of the lunch and evening meal restaurants that we use are:
4 Fiumi restaurant – Rome (Milan to Rome tour) – Great, authentic Italian food, set in one of the most beautiful Piazzas in Rome.
La Locanda Delle Scuderie – Chiuso (Milan to Rome tour) – a wonderful place to stop for lunch, with a wonderful setting in the amazing surrounds of Locanda, the 18th century stable block of the grand house. (Milan to Rome tour)

Watch our videos!
Find out more about what is on store on our Milan to Rome cycling holidays below – or check out our Geneva to Milan tour here.